Maha Khalil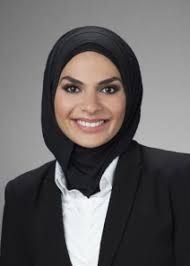 Associate Attorney
Attorney Maha Khalil first started working at The Modi Law Firm, PLLC in 2016, after previously working for a mid-size firm as a civil litigator. She earned a B.A. in both Political Science and History at the University of Houston. She later went on and earned her Juris Doctor degree from the University of Houston Law Center.
Attorney Khalil is very passionate about helping immigrants and is committed to helping both her clients and providing pro-bono assistance to under privileged communities. Her experience with immigration law includes family-based petitions, asylum, victims of crime, and removal defense. Attorney Khalil spent time at the Karnes detention center to provide pro-bono representation to women and children coming from Central America in their asylum proceedings and recently volunteered in Tanzania, Africa to assist refugees and orphans. Maha has been mentioned in the Houston Chronicle with the Houston Mayor and Houston Police Chief.
Attorney Khalil is dedicated to providing diligent representation to her clients and helping them overcome their obstacles. She is bilingual in English and Arabic.
Education
University of Houston – B.A. in History and Political Science
University of Houston Law Center – Juris Doctor Degree